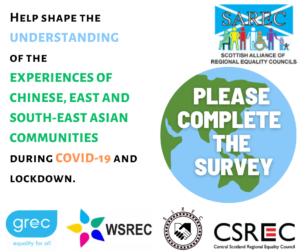 We, along with our partner RECs across Scotland, have just begun a new project looking to better understand the experiences of Chinese, East and South-East Asian communities during COVID-19 and lockdown. This includes a focus on recent experiences of hate crime and prejudice.
Part of this project is a survey, and there are also focus groups planned. We will use the results to inform policy makers what action is required to better support communities.
If you, or anyone you know, are in the Chinese, East or South-East Asian communities, we would greatly appreciate your support in participating and sharing the survey.
You can also share the survey using these short links:
tinyurl.com/survey-2020-english
tinyurl.com/survey-2020-simplified-chinese
tinyurl.com/survey-2020-trad-chinese