Please click each section heading for the full text of that section. Footnotes link to the bottom of this page.
Homelessness, Tenancy & Overcrowding
2018-19 is the most recent data available for homelessness applications by local authority and ethnicity, and even during this period, recording of ethnicity data seems patchy (see charts below).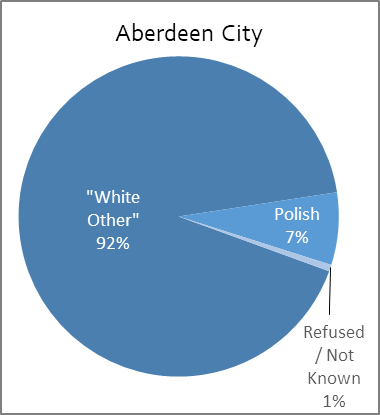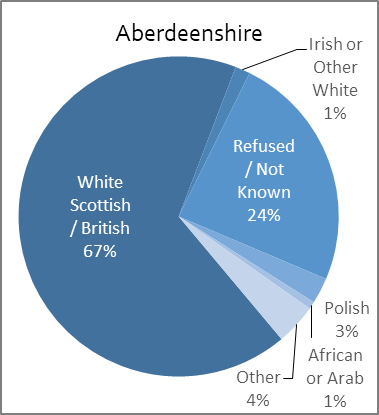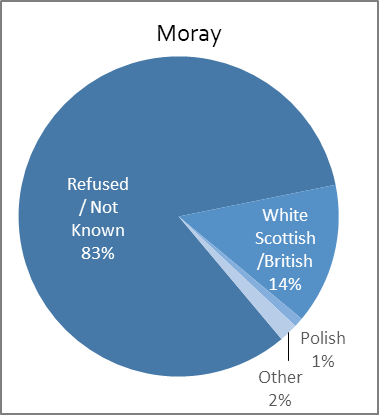 Similar to the pattern across Scotland, ethnic minorities in Grampian lived with less secure tenure than Scottish/British people. On average, four times more ethnic minority people rent from private landlords than Scottish/British people, and even in Aberdeenshire, where home ownership is highest, less than half of ethnic minority people own their homes, compared with more than three-quarters of Scottish/British people.
Under-occupation and overcrowding are calculated using number of occupants and their relationships to determine the number of rooms a household requires. When the number of available rooms is smaller than what is required, the home is considered overcrowded.
---
Tenancy, 2011 Census
Abdn City
Abdnshire
Moray
Grampian
Average
Scotland
Average
Owner-Occupied: Scottish/British
65.5%
77.3%
68.5%
70.4%
67.3%
Owner-Occupied: Ethnic Minority*
29.8%
45.9%
40.4%
38.7%
44.9%
Social Rented: Scottish/British
22.8%
13.3%
17.9%
18.0%
21.8%
Social Rented: Ethnic Minority
20.0%
14.1%
12.0%
15.4%
17.9%
Private Rented: Scottish/British
11.7%
9.3%
13.6%
11.5%
10.9%
Private Rented: Ethnic Minority
50.2%
40.0%
47.6%
45.9%
37.2%
*'Ethnic minority' includes all non-'white' ethnic groups, plus White Irish, White Gypsy/Traveller, White Polish and White Other. Scotland's Census 2011, Table DC4214SCca.
Tenancy by Ethnicity, 2011
Grampian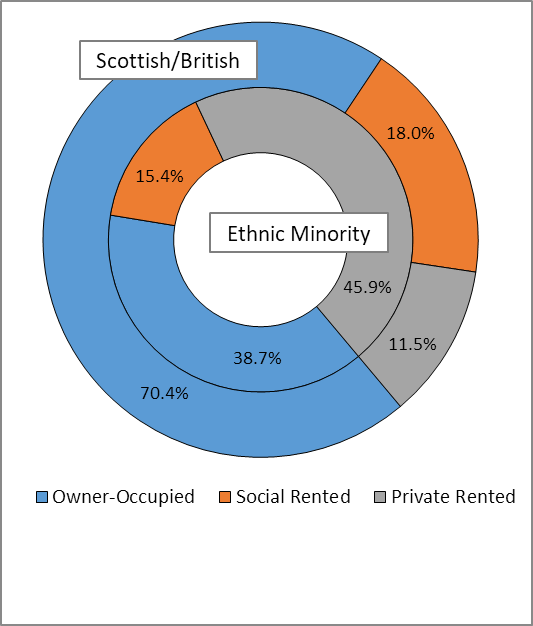 Tenancy by Ethnicity, 2011
Scotland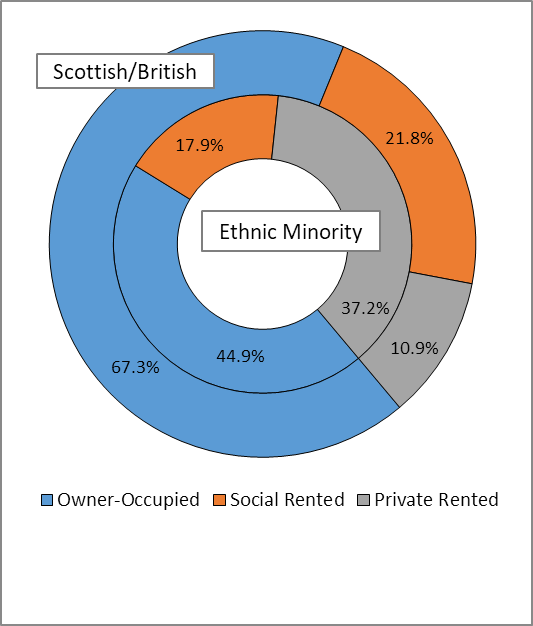 Grampian's level of overcrowding is lower than the Scottish average (9% vs. 11%), but ethnic minorities disproportionately bear the brunt of this. Across Grampian, 25% of ethnic minorities live in overcrowded homes. This figure is similar to the national average for ethnic minorities (24%) and much higher than the figure for Grampian's Scottish/British population (7%). In Aberdeen City, 33% of Africans lived in overcrowded conditions, similar to the Scottish average of 32%. In Moray, 25% of Asians lived in overcrowded homes, and in Aberdeenshire, the figure was 26% for people in the 'white other' ethnic group (including Europeans and Gypsy/Travellers).
Areas of Multiple Deprivation
Generally speaking, Grampian is an affluent part of Scotland. In the 2020 Scottish Index of Multiple Deprivation (SIMD), the Midstocket area of Aberdeen ranked the second least deprived in Scotland, and 116 areas in Grampian fell into the least deprived 10%. Meanwhile, eight areas in Grampian ranked among the 10% most deprived, and 20 in the 15% most deprived. This has shifted somewhat since 2016, with several more areas slipping down the league table of the most deprived in Scotland, and a reduction of those ranked most affluent. [3]
Even with high levels of affluence overall, there is a significant demographic gap between the richest and poorest parts of Grampian. For example, combining SIMD and Census data, it is clear that a ethnic minorities are over-represented in deprived areas. On average, around a quarter (23.3%) of people in Grampian's ten most deprived areas were ethnic minorities, up to nearly a third (32.3%) in Woodside (Aberdeen City). The figure was less than 15% in Grampian's ten most affluent areas. However, ethnic minorities were over-represented in several affluent areas, especially around Aberdeen's hospitals, emphasising the importance of ethnic minority workers in the health service.
The table below shows the ten most and least deprived areas in Grampian, with the proportions of different ethnicities among residents. While the figures are for 2012, most of these areas have remained in the same categories in 2016 and 2020.[4] In more densely populated areas, one area may include several SIMD datazones, and often neighbouring datazones have similar SIMD scores. A lower score means a higher level of deprivation, based on measures of income, employment, health, education/skills, housing, crime, and geographic access to services.
Ethnicity by SIMD Datazones, 2012 – Most Deprived Areas
Datazone
SIMD Rank
Area
All people
Scottish / British
Ethnic Minorities (all)
'White' Ethnic Minorities*
Mixed/ Multiple,
Other
Asian
African/Caribbean/ Black
S01006634
500
Torry East
634
497 (78%)
137 (22%)
116
2
12
7
S01007126
536
Fraserburgh Harbour/Broadsea
927
626 (68%)
301 (33%)
287
4
5
5
S01006684
545
Woodside
684
477 (70%)
207 (30%)
135
15
30
27
S01006636
675
Torry East
870
700 (81%)
170 (20%)
133
12
8
17
S01006667
725
Seaton
741
537 (73%)
204 (28%)
132
9
35
28
S01007086
754
Peterhead Harbour
1132
808 (71%)
324 (29%)
280
7
33
4
S01006724
785
Northfield
1005
882 (88%)
123 (12%)
73
2
11
37
S01006729
878
Heathryfold/Middlefield
831
704 (85%)
127 (15%)
70
5
30
22
S01007088
884
Peterhead Harbour
539
452 (84%)
87 (16%)
83
2
2
0
S01006727
893
Heathryfold/Middlefield
1015
754 (74%)
261 (26%)
232
4
10
15
Total
8378
6437 (77%)
1941 (23%)
1541
62
176
162
*Includes Irish, Polish, Gypsy/ Traveller, Other 'White.' Scottish Index of Multiple Deprivation (SIMD) 2020. Scotland's Census 2011, Table LC2801SC.
Ethnicity by SIMD Datazones, 2012 – Most Affluent Areas
Datazone
SIMD Rank
Area
All people
Scottish / British
Ethnic Minorities (all)
'White' Ethnic Minorities*
Mixed/ Multiple,
Other
Asian
African/Caribbean/ Black
S01006561
6975
Midstocket
634
664 (87%)
102 (13%)
40
21
30
11
S01006689
6969
Hilton
927
497 (79%)
132 (21%)
49
14
47
22
S01006935
6964
Westhill Central
684
659 (94%)
40 (6%)
17
4
19
0
S01006559
6958
Midstocket
870
487 (80%)
120 (20%)
85
3
30
2
S01006833
6957
Stonehaven North
741
423 (93%)
32 (7%)
23
3
4
2
S01006575
6956
West End South
1132
786 (83%)
165 (17%)
99
18
38
10
S01006581
6955
West End South
1005
787 (89%)
102 (12%)
74
6
17
5
S01006573
6949
West End North
831
607 (84%)
117 (16%)
83
10
13
11
S01006570
6946
Rosemount
539
608 (77%)
183 (23%)
73
12
68
30
S01006933
6945
Westhill North/South
1015
554 (96%)
26 (5%)
10
4
8
4
Total
8378
6072 (86%)
1019 (14%)
553
95
274
97
*Includes Irish, Polish, Gypsy/ Traveller, Other 'White.' Scottish Index of Multiple Deprivation (SIMD) 2020. Scotland's Census 2011, Table LC2801SC.
Key Missing Data
Apart from some material in the Local Housing Needs Assessment for Aberdeen City [6], there appears to be no available data linking housing, ethnicity and reasons for homelessness across Grampian.
Qualitative Data from Relevant Local Research
Speakers and participants in this online roundtable discussion highlighted key issues regarding access to housing due to Brexit. EU nationals now face the same 'hostile environment' as non-EU migrants, with exhaustive procedures to live and work in the UK. When landlords and employers are required to take nine steps to check someone's status online, it is likely to lead to a preference for applicants with a British passport or physical residence permit. Participants felt there was not enough information and guidance about the changes arising from Brexit, reinforcing that landlords and employers do not have enough knowledge of the new rules, which can lead to discrimination.
More broadly, people subjected to immigration controls have always been excluded from housing and homelessness provision, but prior to Brexit, this did not apply to EU citizens. Therefore, the Scottish Anti-Destitution strategy is undermined by Brexit and the impact of more people included in the No Recourse for Public Funds (NRPF) category. The absolute deadlines imposed by Brexit have made prevention of destitution much more complex.
GREC: Aberdeen Equality Outcomes Survey & focus groups (2020) [8]
While most research participants did not feel their homes were overcrowded, nearly a third of ethnic minority participants felt their homes were sometimes too damp or too cold, and the same proportion found that housing related issues had resulted in a household member suffering a health problem. The figure for Scottish/British participants was 18% and 8%, respectively. Many also highlighted a lack of affordable housing in Aberdeen City.
Syrian New Scots in Aberdeenshire [9]
Aberdeenshire Council faced significant logistical challenges in organising suitable housing for the Syrian New Scots community. When families began to arrive in 2015, they were initially given private accommodation rented by the council for a two year period, in a Private Sector Leasing (PSL) scheme. The expectation was that they would transition into more typical Private Residential Tenancies (PRTs) afterwards. This scheme worked well until 2019, when issues began to arise, including the changing needs of tenants (mobility, children, etc), and landlords wishing to sell or move back into their properties. Some landlords also wanted to end their legal agreement with Aberdeenshire Council, in order to charge higher rent.
A temporary Housing Officer was appointed in 2019, to provide dedicated support to New Scots clients, and the post was made permanent in 2021. They have supported clients with housing and homelessness applications, communication with landlords, organising repairs, and other matters. They have also identified issues around overcrowding, affordability (even for those working), damp conditions, domestic abuse, and neighbours' anti-social behaviour. Meanwhile, the housing market had shifted since 2015, with fewer available properties, higher rental costs, and significant impacts on families with three or more children due to the Benefit Cap. Broadly speaking, they found that the needs of New Scots were similar to those of social housing clients, requiring ongoing support. Anecdotal evidence also showed that the only New Scots tenants who could afford to move into employment were those in two-bed private housing, due to Local Housing Allowance rates.
During 2020, Covid-19 led to many PSL tenancies being extended for a year, but transitions into PRTs resumed in 2021. However, one year post-transition, only 10% of New Scots tenants remained in their original private sector home, and most landlords have expressed plans to sell their properties when their PSL agreement ends. Therefore, the housing strategy for future groups of New Scots will focus on social housing rather than private rented accommodation, to minimise disruption, allow for better support, and ensure more secure tenancies.
Research from 2018 and Earlier
For a more in-depth summary of this research, including sample sizes and other details, please see How Fair Is North East Scotland 2018, available on grec.co.uk/research.
Minority Ethnic Housing Project (MEHP), 2016: Annual Report
SSAMIS 2017: Migrant Housing in Aberdeen & Aberdeenshire [10]
Until 2017, when funding ceased, the MEHP provided advice and support to ethnic minorities facing homelessness and other housing issues. Similar issues were identified in the SSAMIS research, and in both cases, problems often compounded each other. Key issues included:
Issues with benefits – late payments, shrinking payments, sanctions, loss of Jobseeker's Allowance for EU nationals with a permanent Right to Reside, bedroom tax, etc.
Other money/debt problems – rent arrears, employability, fuel costs, etc.
Immigration issues – No Recourse to Public Funds, loss of Right to Reside, complex/confusing paperwork and other requirements (often needing IT skills/access to complete).
Poor housing – overcrowding, unaffordable rent, insecure tenancy, health/safety concerns, etc.
Irresponsible landlords – ignoring tenants' rights, threatening eviction, refusing to make repairs.
Being 'stuck' in overpriced, poor quality accommodation provided by employers.
Language barriers, lack of knowledge about rights/entitlements/where to get help, limited ESOL provision in rural areas, limited informal support networks, etc.
Domestic abuse, eviction, homelessness, long waiting lists for social housing.
Summary & Priorities
Description for this block. Use this space for describing your block. Any text will do. Description for this block. You can use t
The evidence above highlights some specific housing challenges faced by ethnic minorities in Grampian. Housing problems tend to be most prevalent in more deprived areas, but overall, ethnic minorities in Grampian live with less secure tenure than the Scottish/British population, with worse figures compared to the Scottish average. In addition, levels of over-crowding are noteworthy, despite not differing greatly from the national picture. Examining demographics alongside data on multiple deprivation, it is clear that ethnic minorities are over-represented in both poorer and richer areas, which aligns with findings in the Employment section above.
There are consistent gaps in data on homelessness and ethnicity at a local level, and more work is required to get a clearer understanding of which communities are being affected by homelessness and why. Issues linked to UK- and Scotland-wide policies, such as immigration rules, benefits system changes and the 'hostile environment' all affect access to housing as highlighted by recent qualitative data, which suggests that related issues are only becoming more significant as the consequences of Brexit and Covid-19 develop.
Priorities
Gaining a better understanding of the communities most affected by homelessness and why.
Ensuring appropriate support is in place for those falling through the gaps of immigration and benefit rules.
Raising awareness among those living in over-crowded and poor-quality housing of where to seek information, advice and support.
Focused work in areas of deprivation with high proportions of ethnic minorities.
---
References
[1] Scottish Government, Homelessness Statistics: additional analysis by local authority, July 2019 Link.
[2] Scotland's Census 2011, Table DC4214SCca. 'Ethnic minority' includes all non-'white' ethnic groups, plus White Irish, White Gypsy/Traveller, White Polish and White Other.
[3] Scottish Index of Multiple Deprivation (SIMD) 2020 (link). Scotland's Census 2011, Table LC2801SC.
[4] One exception has been Heldon West & Fogwatt in Buckie, which moved into the most deprived decile.
[5] Scotland's Census 2011, Table LC4420SC.
[7] GREC, briefing available online. Link. There were six speakers and 65 participants in total.
[8] More than 200 people took part in this research.
[9] Aberdeenshire New Scots Housing Strategy Review Discussion Paper (Internal), April 2021.
[10] Summary write-up based on SSAMIS project fieldwork, 2014-15. Link.