Please click each section heading for the full text of that section.
British Citizenship & EU Settlement Scheme
People Attending British Citizenship Ceremonies by Local Authority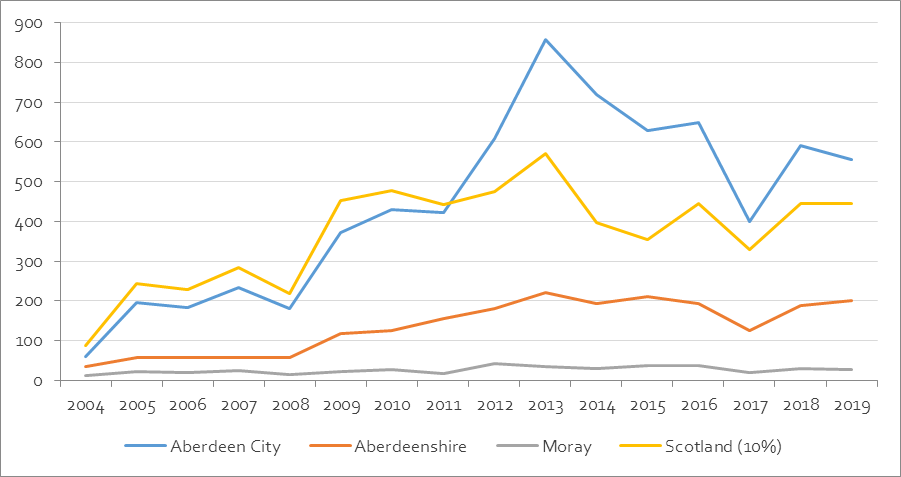 EU Settlement Scheme
By the end of June 2021, 44,230 people had applied to the EU Settlement Scheme across Grampian. As of September 2021, decisions had been made on 92% of applications in Aberdeen City and Aberdeenshire, and 90% of applications in Moray. The outcomes of these decisions are shown below. There was no explanation of what 'Outcome: Other' means, but presumably this describes applications that have been rejected.
Total
Applications
Outcome:
Settled Status
%
Outcome:
Pre-Settled Status
%
Outcome:
Other
%
Still in
Process
%
Aberdeen City
28,640
15,240
53%
10,330
36%
900
3%
2,170
8%
Aberdeenshire
12,220
7,870
64%
3,030
24%
370
3%
950
8%
Moray
3,370
2,110
63%
840
25%
100
3%
330
10%
Data Source: 2021: UK Government Statistics, EU Settlement Scheme Local Authority Tables. Link.
Political Representation & Participation
For the first time, the Scottish Parliament now broadly reflects the ethnic makeup of Scotland as a whole, with 4.5% 'colour coded' ethnic minority MSPs, plus two 'white' immigrant MSPs. However, at the local government level, less than 1% of Councillors are from ethnic minority backgrounds.
There is very little (if any) data on participation in political parties and other civic organisations, both locally and nationally. The Equality and Human Rights Commission (EHRC) highlights this issue in their report on barriers to participation in standing for local election in Scotland:
"data were not often systematically collected, whether by government or by political parties. This meant it was not possible to understand whether other protected characteristic groups were under-represented compared with the general population. […] Political parties do not seem to collect and publish data on levels of representation from membership, through to approved lists of candidates, candidates for selection, and candidates for election. Diversity data by stage would be very useful in helping political parties to understand and tackle barriers to diversity."

Equality and Human Rights Commission, Research report 125: Barriers to participation in standing for election to local government in Scotland. Link.
BAME MSPs: Foysol Choudhury, Pam Gosal, Sandesh Gulhane, Anas Sarwar, Kaukab Stewart, Humza Yousaf. Other immigrant MSPs: Maggie Chapman, Lorna Slater.
2021: Equality and Human Rights Commission, Research report 125: Barriers to participation in standing for election to local government in Scotland. Link.
2021: race.ed.uk: The Journey to a More Diverse Scottish Parliament. Link.
Nationality and Borders Bill
As of December 2021, the Bill is in its second reading in the House of Lords. An extension of 'Hostile Environment' policies, it would dramatically restrict access to asylum in the UK, criminalise asylum seekers, remove safeguards for children and victims of human trafficking, and introduce the option of sending refugees to other countries. Serious concerns have been raised by the UN Refugee Agency (UNHCR), the UK Equality and Human Rights Commission (EHRC), the Scottish Refugee Council (SRC), and others.
While many media outlets have focused on new powers to revoke UK citizenship from those born elsewhere, the EHRC outlines some key intersectional issues:
"Those with certain protected characteristics may be disproportionately impacted by these proposals, including as a result of barriers to early engagement with the authorities. For example, women arriving in the UK through irregular routes, including by being smuggled or trafficked across borders, may be fleeing gender-based violence and may need more time to seek appropriate support before they are able to engage with authorities. LGBT+ people may face challenges in sharing their identity and therefore take more time to prepare and disclose information to officials. Similarly those with mental health conditions related to experiences of torture or inhuman or degrading treatment or punishment may not present themselves immediately due to the impact of trauma. Minor children separated from parents may be disproportionately affected by restrictions on family reunion rights.

"Particular attention will be required around asylum-seekers who may not originate from a region of conflict, but may be subject to persecution on the basis of their protected characteristics – such as LGBT+ people, or women who have experienced gender-based violence – and have reached the UK by unofficial routes. Such groups may be smaller in number than others in the migrant population, but will in many cases be most disadvantaged while having the least support available to them under the new proposals. Due regard must be given to those impacts, and proportionate mitigations put in place.

"All those recognised as refugees in the UK, whether granted temporary or secure status, have a well-founded fear of persecution in their home country. The ability of those afforded temporary protection status to integrate into society and make a positive contribution to their communities may be affected by the limited and insecure nature of their leave."
2021: EHRC. Link.
2021: SRC. Link.
2021: UNHCR. Link.
Qualitative Data from Relevant Local Research
The Human Cost of Brexit (Rights & Citizenship)
In an online roundtable discussion, members of community groups and third & public sector organisations reflected on Brexit's impact on EU citizens in North East Scotland. Six speakers presented diverse perspectives and more than 65 people attended the discussion that followed, raising the concerns of local communities.
Speakers and participants in this online discussion forum pointed to the financial costs associated with citizenship applications, which will impact both EU nationals entering the UK from January 2021 onwards, and those who were living in the UK before. One speaker noted that citizenship applications cost more than £1,000 in 2021, plus the fees associated with English language tests and the Life in the UK test.
Data Source: 2021: Shared Futures and No Recourse North East. Link.
Aberdeen Equality Outcomes Consultation (Rights & Citizenship)
During August and September 2020, GREC conducted a survey to gather feedback from people with protected characteristics to feed into Aerdeen City Council's Equality Outcomes. The survey was complemented by a series of focus groups held in October and November. In total, over 200 people took part.
One section of the survey focused on civic life, asking participants about voting and other civic activities, including responding to consultations, signing petitions, writing to elected representatives or getting involved with community councils, political parties, trade unions or campaigning groups. 60% of ethnic minority participants reported voting in an election, and 53% had engaged in other civic activities. These were significantly lower percentages than for Scottish/British participants, of whom 90% reported voting in an election and 74% had engaged in other civic activities.
Nearly a quarter of ethnic minority participants felt excluded from civic engagement because of their ethnicity or nationality. For some, this was due to language issues, lack of familiarity with the political system, or not knowing how to get involved. For others, not being allowed to vote discouraged them other forms of civic activity. In comments, participants described being ignored or dismissed because of their ethnicity, and some were concerned about political involvement putting their immigration status at risk.
Key Missing Data
There appears to be very little relevant data in this area. Other potential indicators to support future analysis may come from Home Office records, local surveys, or qualitative interviews, including:
Access to – and utilisation of – legal and welfare benefits advice by ethnic minorities compared with the general population.
Ethnic minority communities' reported sense of equity in accessing services and entitlements.
Rates of application for citizenship by ethnic minorities and refugees.
Other indicators:
Acceptance rate of family reunion applications by refugees.
Proportion of ethnic minorities involved in political party or trade union in past 12 months (compared with general population).
Summary
The data above shows that the majority of applications to the EU Settlement Scheme in Grampian were accepted. However, financial costs of future citizenship applications are a significant worry for many EU nationals.
Though there is limited evidence available and more research in this area is necessary, a local survey shows a gap in participation, with significantly lower percentages of ethnic minorities voting in elections compared with the Scottish/British population, and the same trend with regards to engagement in civic activities. This is attributed to lack of knowledge about the political system or how to get involved, language barriers, and not being allowed to vote. However, it is relevant to note that the research was carried out prior to the extension of voting rights implemented in 2021.
Comments or feedback? Please click here.