GREC is delighted to have received funding from the Robertson Trust to continue our financial inclusion work with local minority communities. This follows an award from the Scottish Government earlier in the year, which allowed GREC and other RECs across the country to support individuals struggling with the cost of living crisis, and research the impact this crisis is having on minority groups.
This funding enables our Casework team to continue providing one-to-one support and advice to people from minority communities in Aberdeen facing financial hardship, who often face additional barriers to accessing more mainstream services.
GREC is lucky to work alongside a number of partner organisations providing financial inclusion services locally, so whether our clients are struggling with debt, looking for work, or need help to apply for benefits, we can connect them with the service best placed to support them.
Lack of awareness of the support available is often cited as an issue contributing to financial exclusion, particularly among migrant communities. To combat this, we created a resource collating contact details of these partner organisations as well as other relevant services locally. This resource can be found below, and is also available under 'resources' in our website menu.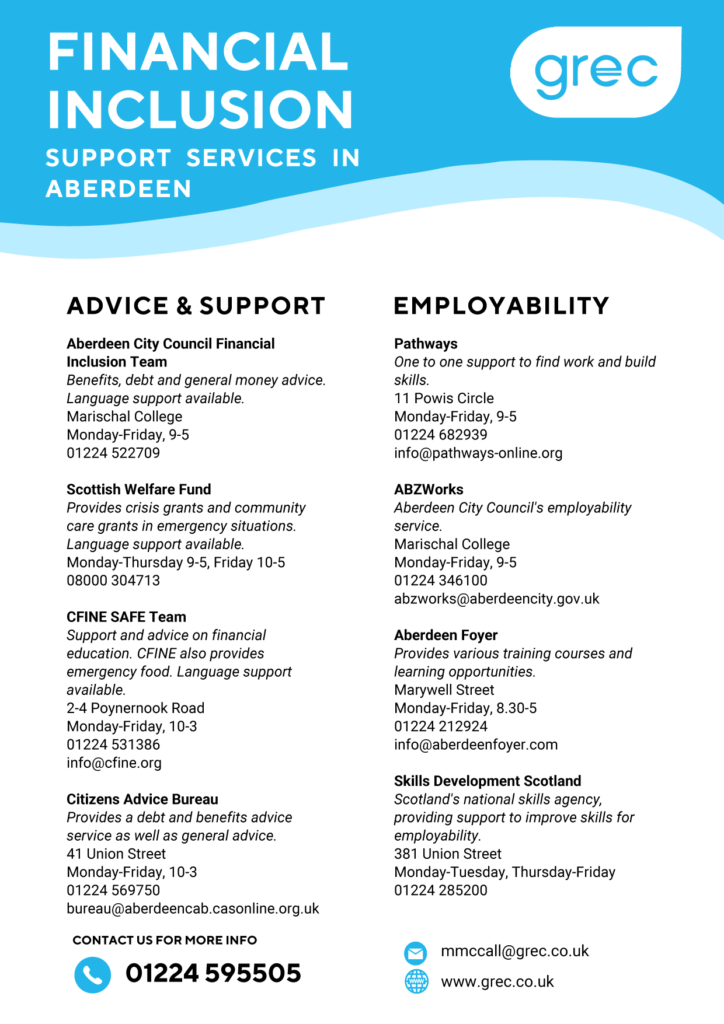 If you or someone you know is struggling with any of the issues mentioned here, get in touch with GREC via the referral form on our website or by contacting Molly at mmccall@grec.co.uk and we can help you get the support you need.